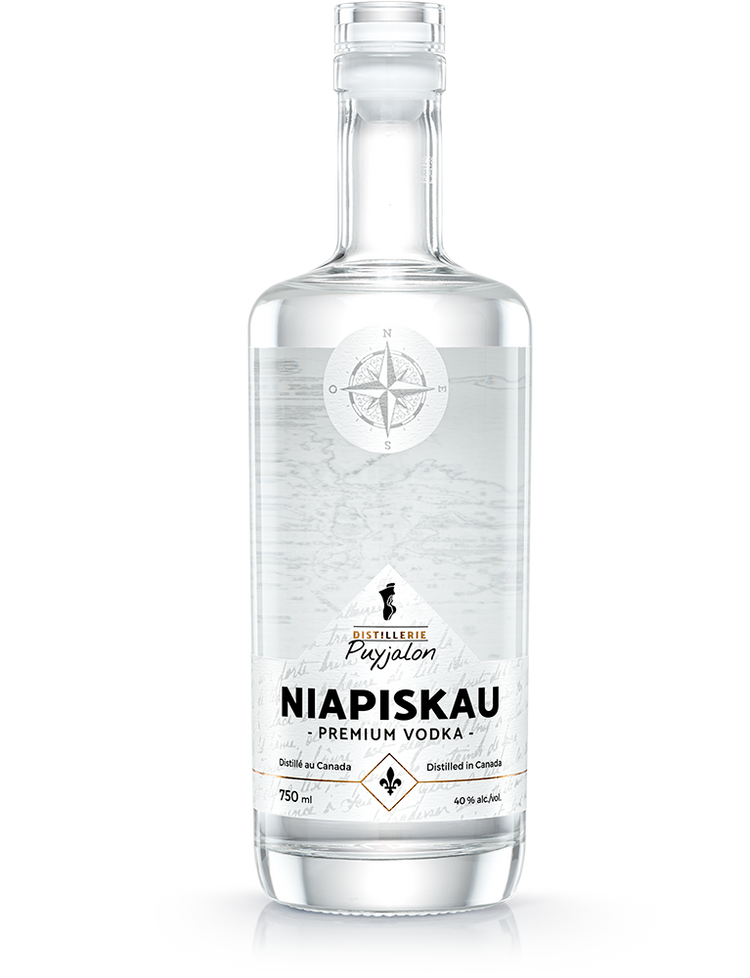 Niapiskau Vodka
The purest freshness. Distilled from northern water drawn from 100 meters deep and which naturally filters through the limestone that surrounds it, Napiskau vodka is undoubtedly an incomparable one that cannot be found anywhere else.
Proudly produced from Canadian grains and pure, clear water from the Havre-Saint-Pierre region. Filtered to perfection to leave only a pleasant taste of grains and a freshness reminiscent of our almost polar climate.
Our Vodka is named after Niapiskau Island, which means "duck waiting island" in the Innu language. Located in the heart of the islands of the Mingan archipelago, Niapiskau is one of the most popular places for Nordic adventurers for its famous monoliths carved with the winds and tides following the last ice age. The monolith illustrated on our bottle is that of the famous Bonne-Femme de Niapiskau, who gracefully sets off in this boreal environment. It is this northern aridity and these rocky formations, witnesses of an ice age, that inspired the flavors of our Niapiskau vodka. 
Disconcertingly pure, an old legend of the region tells that a source of drinking water would emerge from the seabed between the Betchouans and Île-à-la-Chasse. Right in the middle of the Gulf of St. Lawrence, you could drink the sea! It is this water, super loaded with minerals, that is used in our vodka. Distilled 7 times and filtered several times with activated carbon, Niapiskau will remind you of the purity of the landscapes of the North Shore.
Round from the start, it shows a salty and mineral finish on the finish.
Supple and pleasant on the palate, Vodka Niapiskau is perfect for your cocktails, such as a Martini Vesper, a Clover club or, quite simply, as a shot. Served polar cold, it becomes sublime!
Use the left / right arrows to navigate the slideshow or swipe left / right on a mobile device